I got all my work done around 4:30 today and really felt like getting out of the house. But, I apparently forgot to wash my bike clothes after my last ride, and also it looked like it might rain. So, instead of going for a ride, it seemed like a good day to try to locate some more side-of-the-road things around Bartow County.
First was the Pumpkinvine Kiln. I'd made a half-hearted attempt to find this last time I was out, but not wanting it to turn into another Pool Furnace chase, I did a bunch of research a few days ago... I first saw the kiln, and lots of other cool stuff, on B&E Roberts' very excellent website, where he alleges that it lies on lot 1038. Where the heck is that? Well, the Etowah Valley Historical Society has an online map with lot numbers! They also have a photo of it with a caption referring to it as the Bevel Ridge Furnace. Lot 1038 is on Bevel Ridge Road, at the point where it comes close to Pumpkinvine Creek. That really narrowed it down.
And, yep, it was right there where it ought to be, and perfectly visible from the road, in fact.
A little closer.
And, the general area around it...
I considered climbing up the backslope to get a shot of the chimney, and if it's really a lime kiln then there ought to be a quarry up there somewhere, but someone's driveway runs immediately above the kiln, and it's really not clear where the property line is. Plus some dogs went pretty crazy as soon as they saw me, and who knows what they think the edge of their yard is.
Good enough.
Next up, the Blue Ridge Mining Company's Manganese Plant.
Roberts has photos of it too, but he provides no location. He does provide a reference though, which is available online. Pages 57-58 describe the location, and the same old photo Roberts posted is between pages 80 and 81. Score! Lot 473, "a few rods from the Etowah River", 2 and a half miles east of Cartersville. My historical topo maps show a railroad running right through there, and a black rectangle (usually indicating a mill or factory) right there.
Ha! I'd actually driven right by it last time I was out. If it had been winter, I doubt I could have missed it.
The plant was massive. The hillside was terraced to support it, with 5 levels of retaining walls.
Level 1.
Level 2, with some impressive concrete piers.
Level 3.
Mounts for machinery lay at the west end of the level 3 wall.
And a pipe was sticking out of the ground there too.
Levels 4 and 5.
Here's the photo from the book, hosted by Roberts: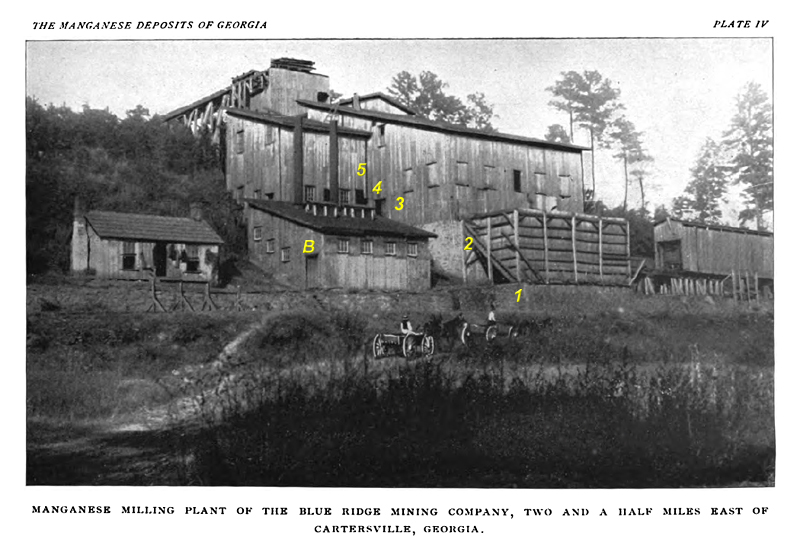 It looks like ore was loaded from the ramp at the top of the hill, processed as it moved down through the main building, dumped into the slanted bin sitting between levels 1 and 2, where it could be loaded into a railcar sitting on that trestle to the right with the covered-bridge-looking thing on it. The main rail may pass directly in front of the plant, where the road is today. It's not visible in the photo, but it may be obscured because the photo was taken below the level of the rail.
The building to the left, with the smokestacks is probably the powerhouse. Those machinery mounts would have been located between it and the main building.
The building to the left of that may be the office, or the residence of the big boss. Who knows?
I should have studied the photo better before going out there. I didn't even think to look for ruins of either of those 2 buildings.
The rock wall that runs along the entire front of everything is completely gone now.
I-75 lies immediately to the east. You could see it in the photo, if it had existed back then. There's a house in the location that the photo would have been taken from too. Across the road, there's a huge, overgrown hill, that's also not in this photo. I guess it was built-up in the intervening years.
All right, that was fun!
Next, I tried to find the Curtin Furnace.
There were at least 11 iron furnaces in and around the area in the mid 1800's:
Lewis'/Bear Mountain Furnace on Stamp Creek, in Pinelog.
Union/Diamond/Ford/Withers/Fire Eater Furnace, also on Stamp Creek, also in Pinelog.
New Stack Furnace, on Guthrie Creek, also in Pinelog.
Pool's/Lewis' Furnace, also on Stamp Creek, also in Pinelog.
Etowah (Creek) Furnace, also on Stamp Creek, but either underwater in Lake Allatoona, or on the Wilderness Camp Marina's property.
Allatoona Furnace, on Allatoona Creek, now underwater in Lake Allatoona, near the bridge to Red Top Mountain State Park.
Cooper's/Etowah (River) Furnace, on the Etowah, in the Cooper's Furnace Day Use Area.
Bartow Furnace, near where Bartow Station was, on the Western and Atlantic Railroad (which I think is CSX now).
Cartersville/Curtin Furnace, on Pettit Creek, near where Jones Mill Road crosses.
Rogers' Furnace, on Nancy Creek, where Rogers' Station used to be on the old Western and Atlantic.
Donaldson's Furnace, on Shoal Creek, in Cherokee County.
There were also various bloomeries, but I'm not counting those.
I had good directions to Cartersville/Curtin, but other sources say it no longer exists.
I figured I'd look anyway, maybe something still exists.
Unfortunately, the area was wooded, and the woods were fenced and gated.
If there's anything there, it's not generally accessible to the public.
Next, I tried to find Rogers' Furnace.
I had a good idea where it would be from here and an even better idea from here. But this furnace too was alleged to no longer exist.
I found the spot easily, or at least I think I did, but there wasn't much there.
There was a hill, west of the creek, that seemed likely the hill that the furnace was built into. More might lie on the opposite side, but I couldn't see anything from the road. No furnace, no kilns, no cotton gins, no grist mill, no lumber mill, no railroad station...
All that remained of Rogers' empire, or at least all that I could see, was this lonely chimney standing under a tree in a field, between the railroad and creek.
Made me kind-of sad, actually.
The field was also fenced and gated, so I had to zoom in quite a bit to get that photo. Blah.
Oh well.
Next I tried to find the remains of (or ascertain if there even were remains of) the Clifford Lime and Stone Company, as described in ​A Report on Limestones and Cement Materials of North Georgia, PDF page 322, site 7B on the map on page 161.
I was way less optimistic about this one. The creeks shown on the map bear little resemblance to reality. "3 miles northwest of Kingston on a spur track of the Western and Atlantic Railroad" only kind-of helps, as the spur is long gone. EVH's Map shows the community of Clifford further north than I thought it would be. Also, I couldn't find anything even vaguely indicating that any trace of it remains.
Yeah, it was a long-shot.
Still, I drove up and surveyed the area. There was plenty of woods to hide any number of old kilns in, and it's the wrong time of year to see much through the woods. Long-shot indeed. Maybe next winter.
It was raining pretty furiously by then too, and getting kind-of dark.
Time to pack it in.
All-in-all, I was pretty satisfied. 2.5 out of 5 isn't bad, especially when I was just driving around on a rainy day.
I'll take it!